Product Description
Washing machines today are counted among the most important appliances in every household. If you are on the lookout for one that will cater to your daily needs, you can opt for this IFB SENORITA AQUA SX front load washing machine. It is fully automatic that will be very convenient to operate. It has 14 wash programs that include Cotton, Cotton Eco, Gentle, Mixed Wash, Quick Wash and Wool and more. The door diameter is 30 cm with a 180 degree door opening angle. It has a capacity of 6.5 litres and will accommodate a large amount of clothes. It is silver in colour with a chrome door finish.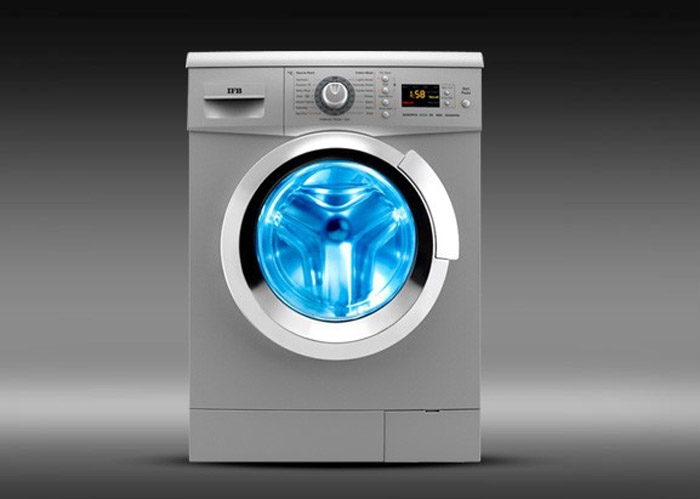 3D Wash System
This wash system will add a dynamic movement to the water and will ensure that you get fresher and cleaner wash for the clothes. The detergent dissolves 100 per cent and penetrates the clothes even deeper for a much cleaner wash. It is a special water system with nozzles that will circulate the water 360 degrees in the drum. During rinsing, the fresh water will go deep into the clothes and will wash off all detergent traces completely.
Aqua Energie
The IFB SENORITA AQUA SX has a built-in aqua filter that treats hard water and improves performance of the machine. It also breaks the bi-carbonates present in the water and reduces them to crystals. The detergent enzymes will dissolve in the water and will give your clothes a much better wash. These crystals are microscopically minute and will flow with the water instead of forming crusts. The filtered water is also soft and will keep the clothes wet. It also reduces scaling on machine components.
Crescent Moon Drum
The crescent moon shaped design on the IFB inner drum will protect the clothes during the wash. The clothes will get a gentle yet thorough cleaning. The water curves up in a swoosh pattern and will prevent the clothes from rubbing against the wall of the steel drum.
Foam Control System
The foam control system of the IFB SENORITA AQUA SX will automatically sense the generation of foam and will activate a dilution system in order to dissolve the excessive foam. It also helps in maintaining the wash quality.
Other Important Features
This IFB SENORITA AQUA SX washing machine has an allergy care feature, time delay, non stop wash to dry, pre wash facility for removal of tough stains, a drain pipe, a timer, time delay, a tub clean facility, rinse cycle fuzzy logic, a child lock feature, and an inlet pipe. It also has a rat mesh, an inbuilt anti crease. It consumes 2200 W of power at 220 to 240 V and a frequency of 50 Hz.